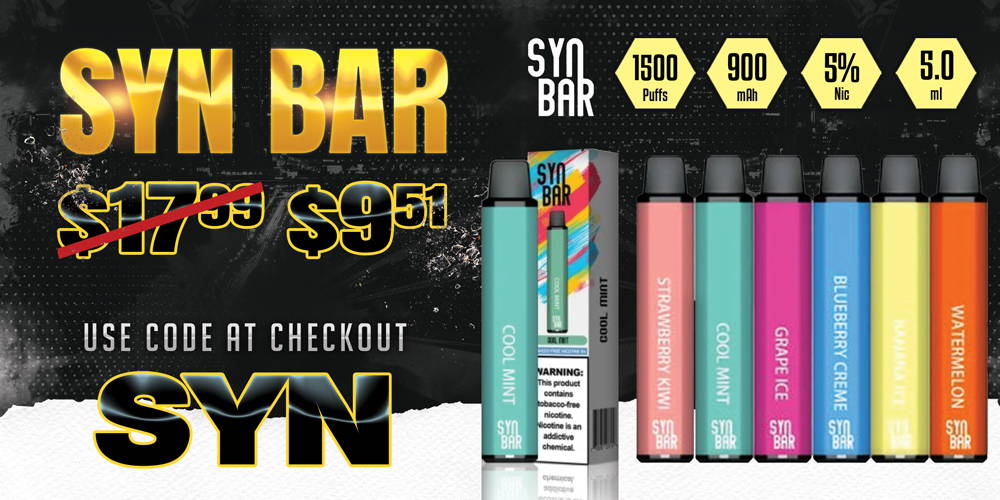 It's a
SYN
to miss out on this! The
NEW SYN Bar
disposables are a hit at Ohm City. The
SYN Bar
explodes with flavor and provides you with a true satisfying vape. The
SYN Bar
features a
5mL e-liquid capacity
,
900mAh battery
and more than
1500 puffs
to keep you vaping like a champ. Try true to taste flavors like
STRAWBERRY KIWI
,
COOL MINT
,
GRAPE ICE
,
BLUEBERRY CREME
,
BANANA ICE
and
WATERMLEON
.
For a limited time ONLY, try the SYN Bar for $9.51 with code "SYN" at checkout. It would be a SYN to miss out on this deal!
ONLY $9.51 with code "SYN" at checkout.
DISPOSABLE BLOWOUTS $2.50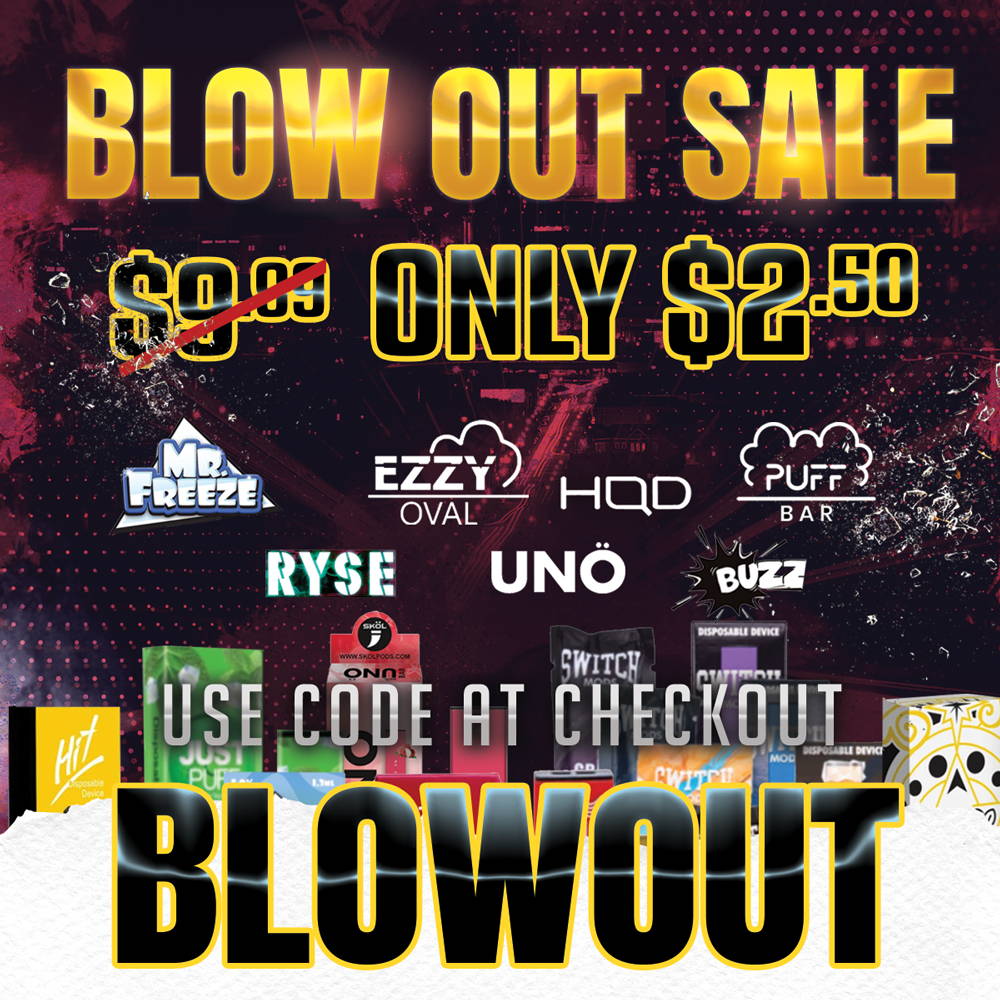 A STEAL of a DEAL you don't want to miss from brands like; HIT, RYSE, BUZZ BARZ, CALI BARS, UNO, JUST PUFF, and much more. ONLY $2.50 each with code "BLOWOUT" at checkout. Mix and match any brand and save big! 60% OFF these disposables and trust us, they won't last long, so STOCK UP NOW!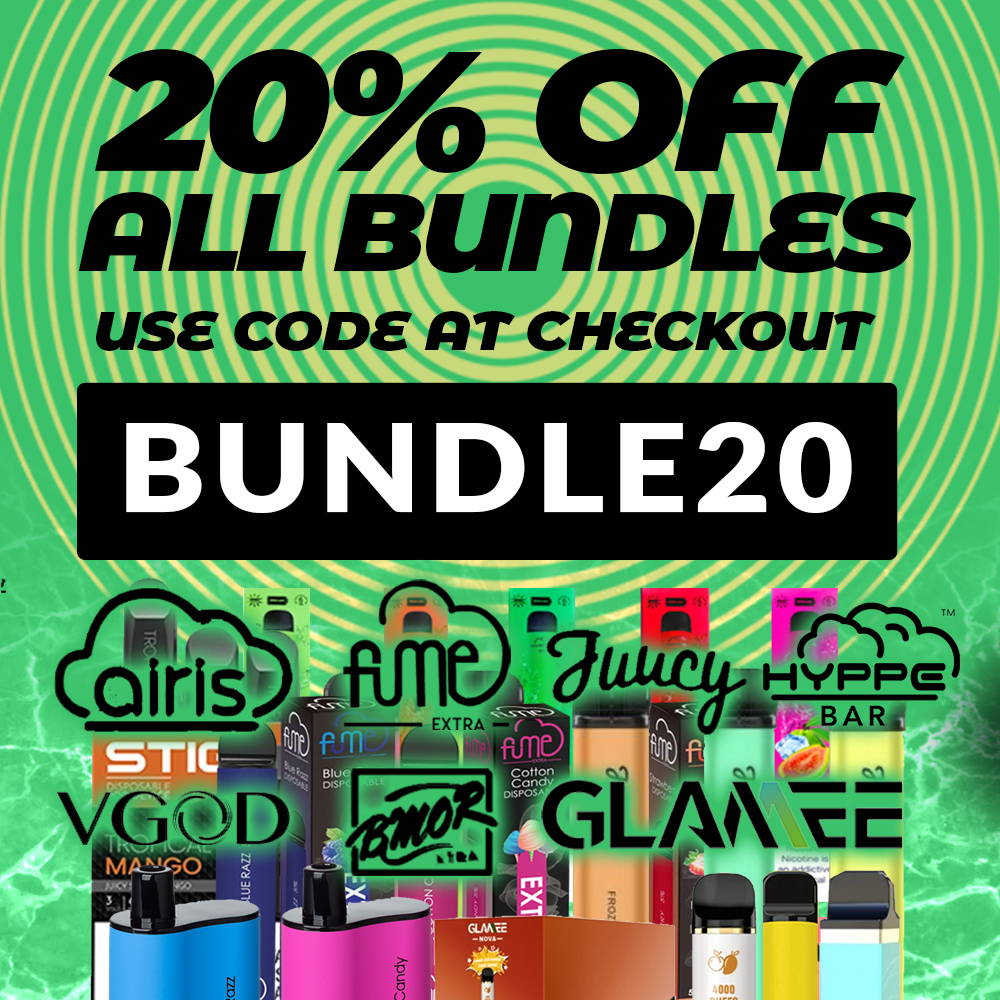 VAPE AND CHILLAX FOR $13.99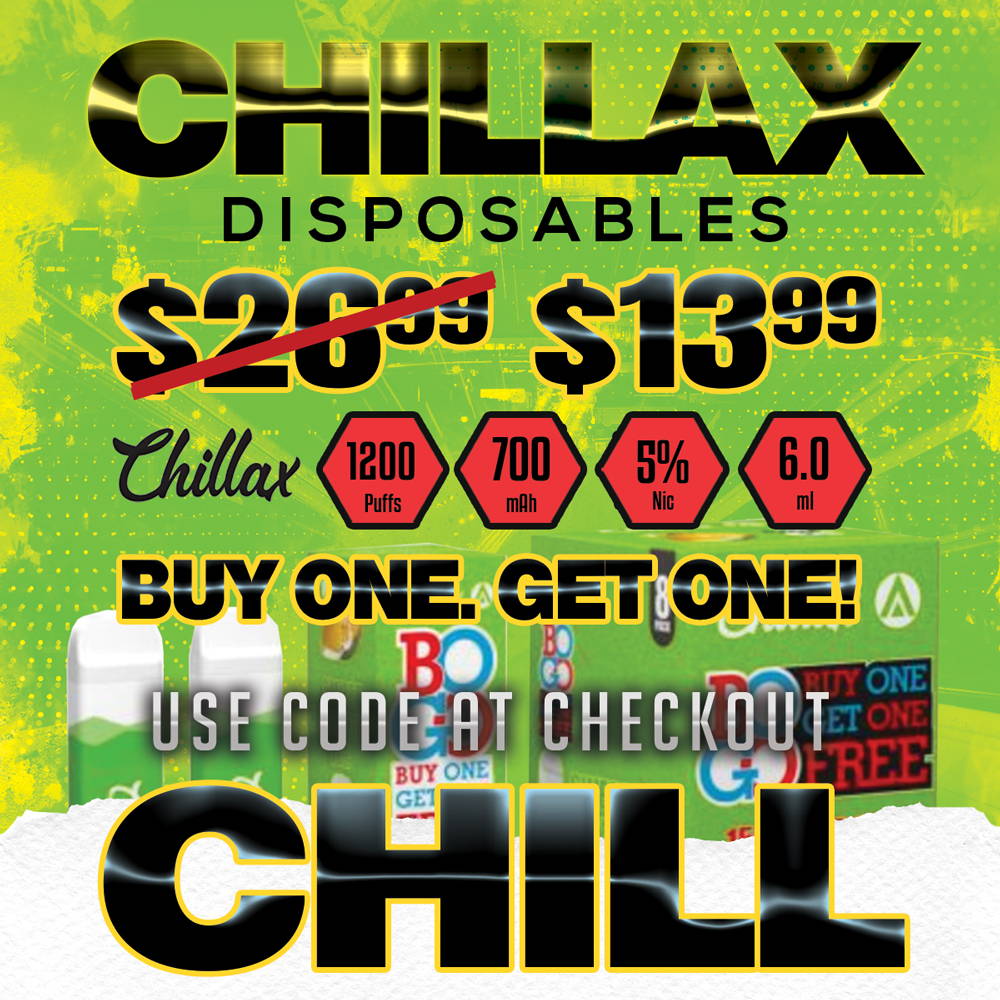 You deserve the right to CHILL! CHILLAX and GET 2 FOR THE PRICE OF 1! Chillax disposable vapes come in pack of 2, it's like BUYING 1 & GETTING 1 FREE! With 12 delicious flavors available in 0%, 2% and 5% nicotine, there's something for everyone. Get a box of 2 for ONLY $13.99 with code "CHILL" at checkout.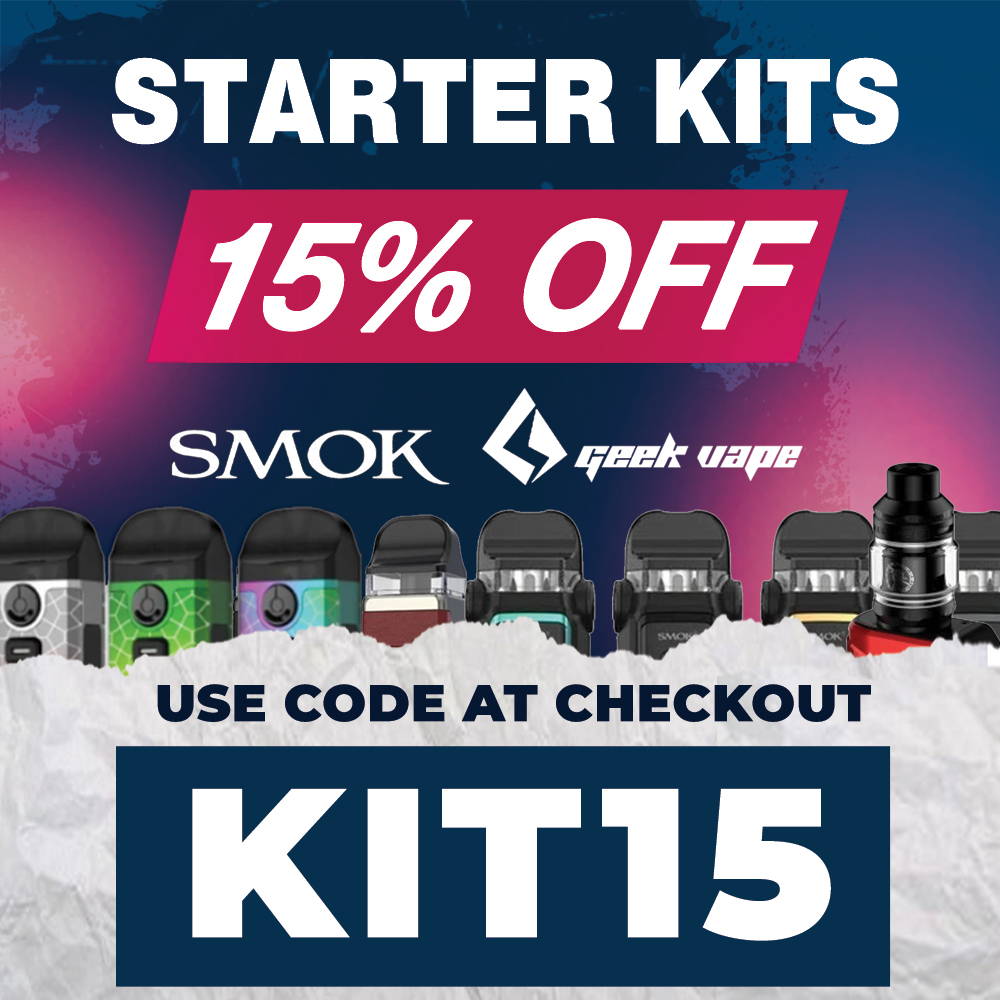 For a limited time, all STARTER KITS are 15% OFF with code "KIT15" at checkout! Choose your favorite brands and flavors like SMOK, GEEK VAPE and VOOPOO! We carry a wide variety of freebase kits and salt nic kits that are cost effective for any vaper. Also, don't forget coils! You will be left vapeless with out them.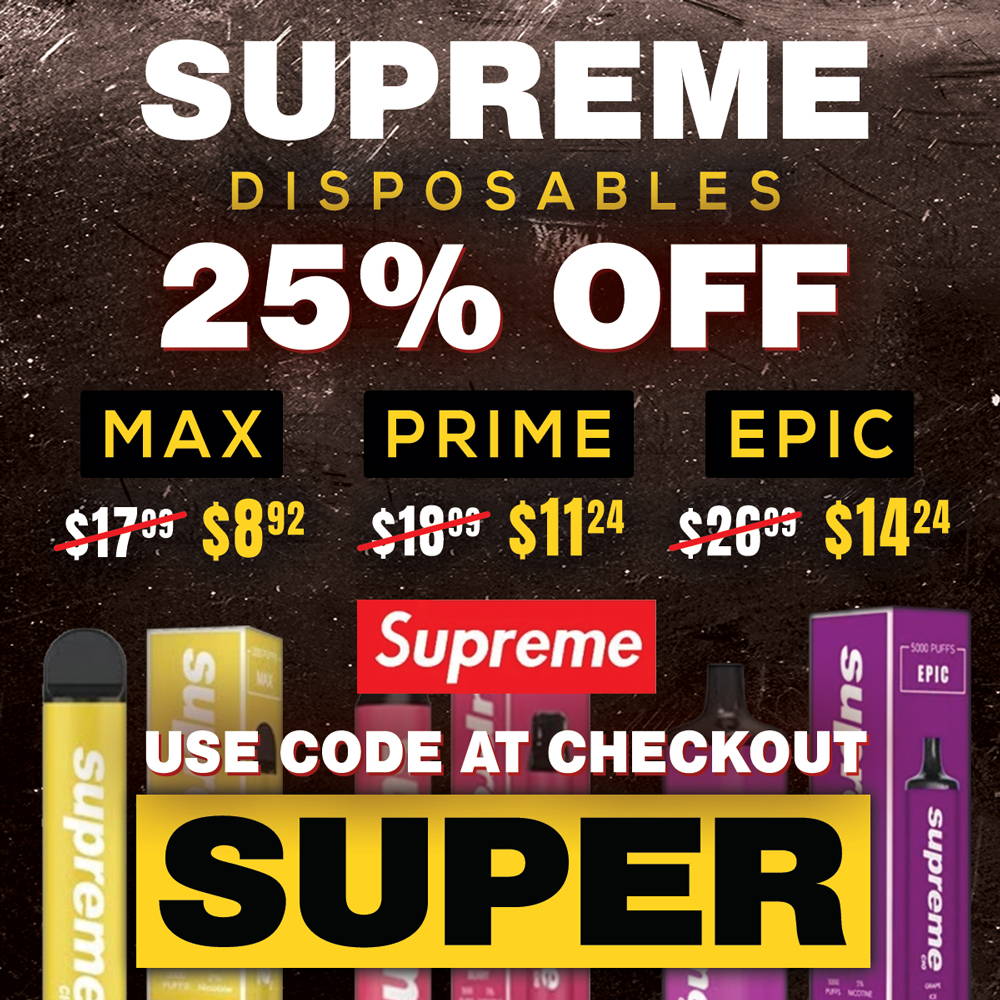 You've tried the FUME, now try SUPREME. For a limited time, get 25% OFF Supreme MAX, Prime and EPIC with code "SUPER" at checkout. Unique flavors like PURPLE RAIN, RED APPLES, BLACK ICE and more. AS LOW AS $8.92! If you love FUME, you will enjoy SUPREME. STOCK UP NOW supplies are limited.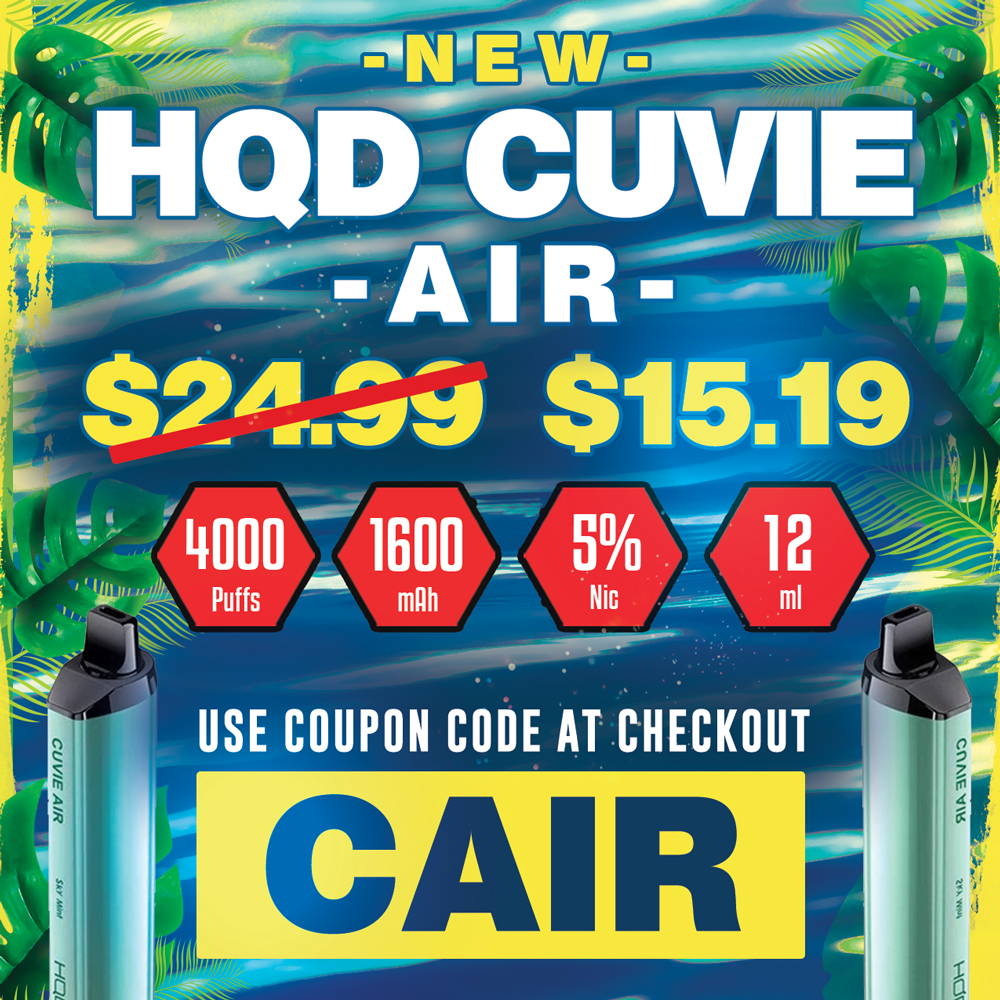 The HQD Cuvie AIRhas hit the scene! Cuvie AIR is a improved version to the Cuvie Plus. HQD has proven to satisfy vape users over time. Cuvie Air features 10 NEW flavors, a 1600mAh battery & holds 12mL of e-liquid. A powerful 4000 puff device will have you wanting more. ONLY $15.19 with code "CAIR" at checkout.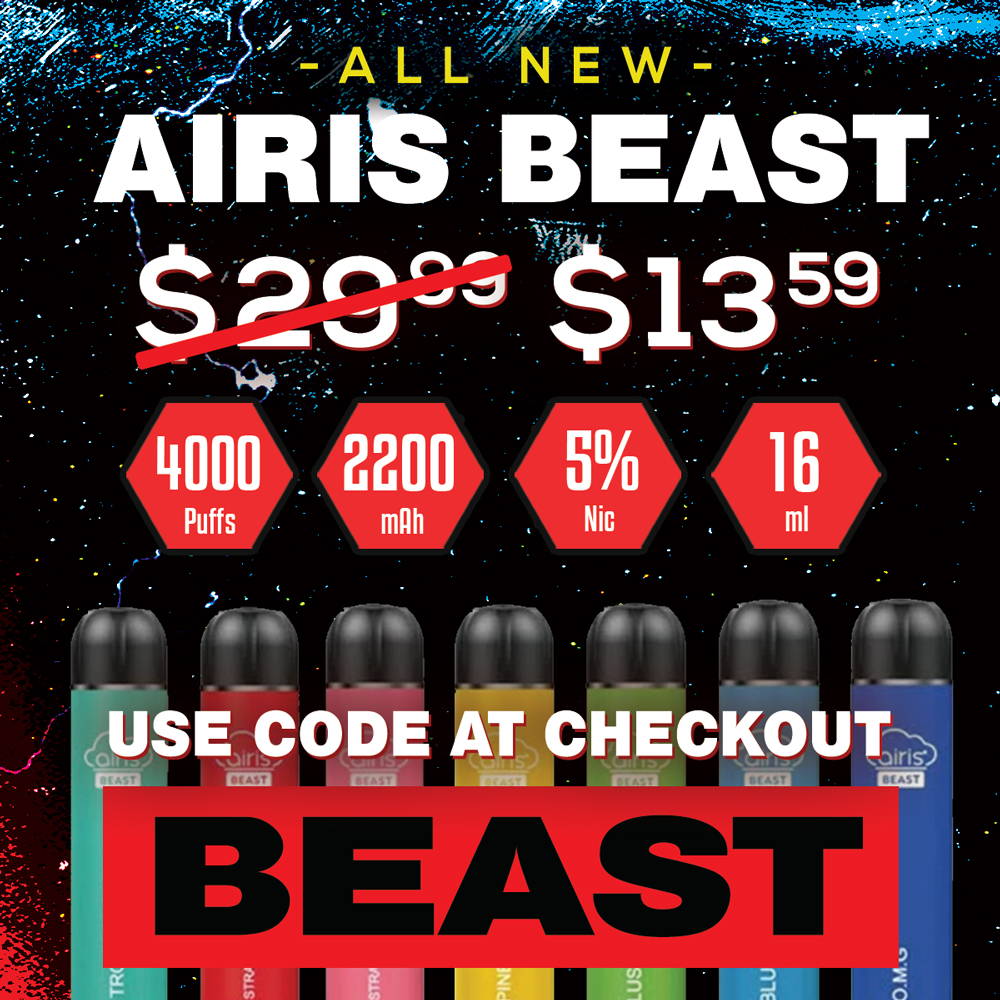 The NEW Airis is a BEAST and for good reason! The BEAST features NEW true to taste flavors, powered by MESH technology, airflow control, 2200mAh battery, 16mL of e-liquid capacity produces 4000 puffs! Try the NEW Airis BEAST for ONLY $13.99 with code "BEAST" at checkout. See why it's a BEAST of a vape!