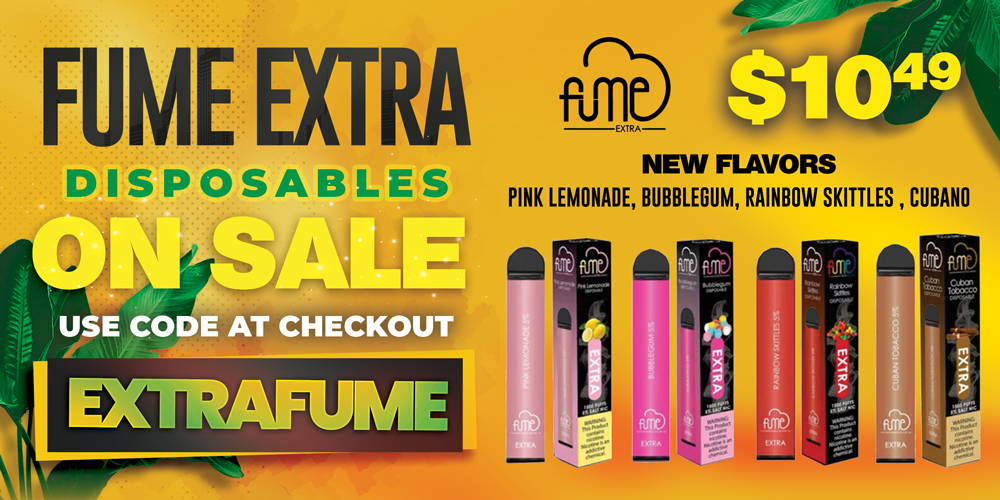 The Fume EXTRA is the hottest selling disposable to date! Choose from 20 delicious flavors and stock up today. Fume EXTRA features a 6ml ejuice capacity, a 850mAh battery and more than 1500 puffs. If you ever wanted to try FUME, now is the time. ONLY $10.49 with code "EXTRAFUME" at checkout.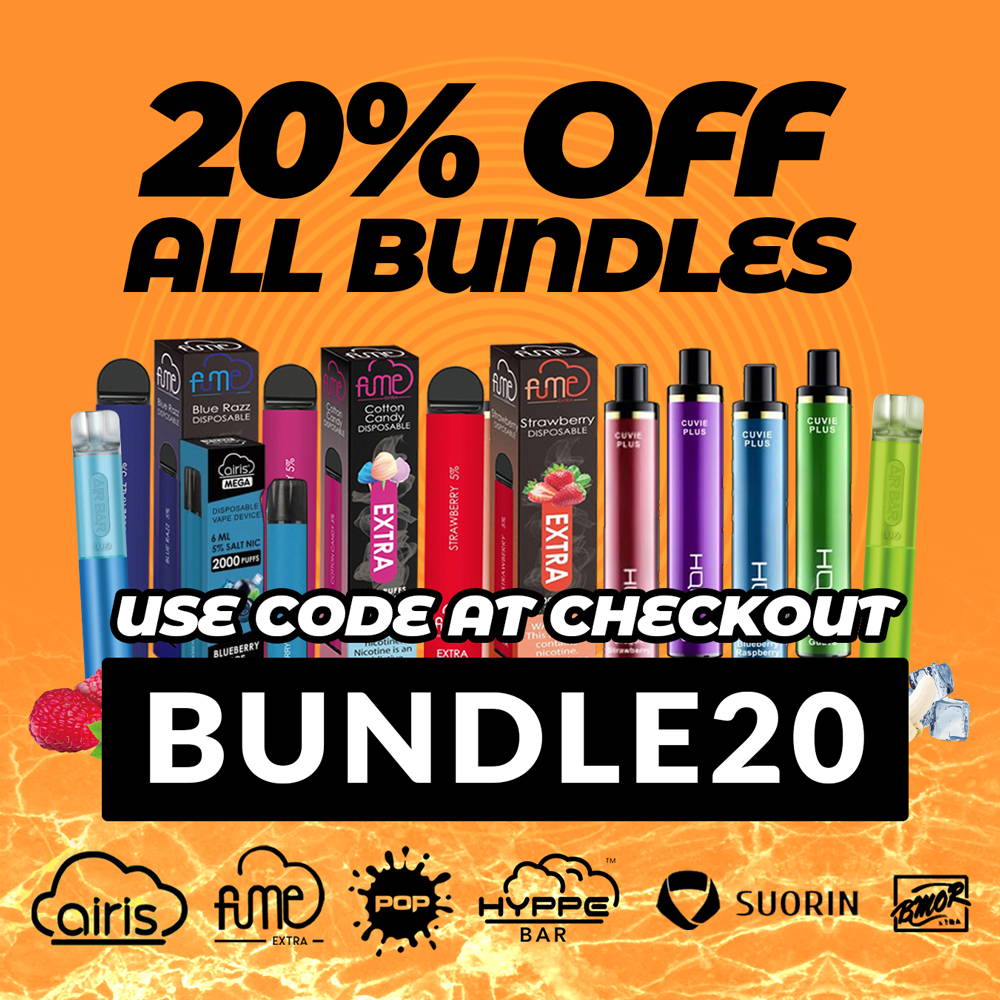 When you bundle, you save! Take 20% OFF on all bundles with code "BUNDLE20" at checkout. Choose from popular brands and flavors like AIRIS, HQD, FUME, SUORIN, VGOD, POP, V2, JUUCY, RYSE, UNO, KANGEVAPE, PUFF PLUS and MUCH MUCH MORE! Bundles are available in 3PK, 6PK and 10PK.

More puffs, more power and more ejuice! What more could you ask for? The RARE Flow is equipped with an enormous 8mL capacity of ejuice, a powerful 1500mAh battery and more than 3000 puffs! Delicious variety of flavors like Mango Ice, Blue Razz, Banana Ice, Lush Ice and more! ONLY $11.99 with code "RARE" at checkout.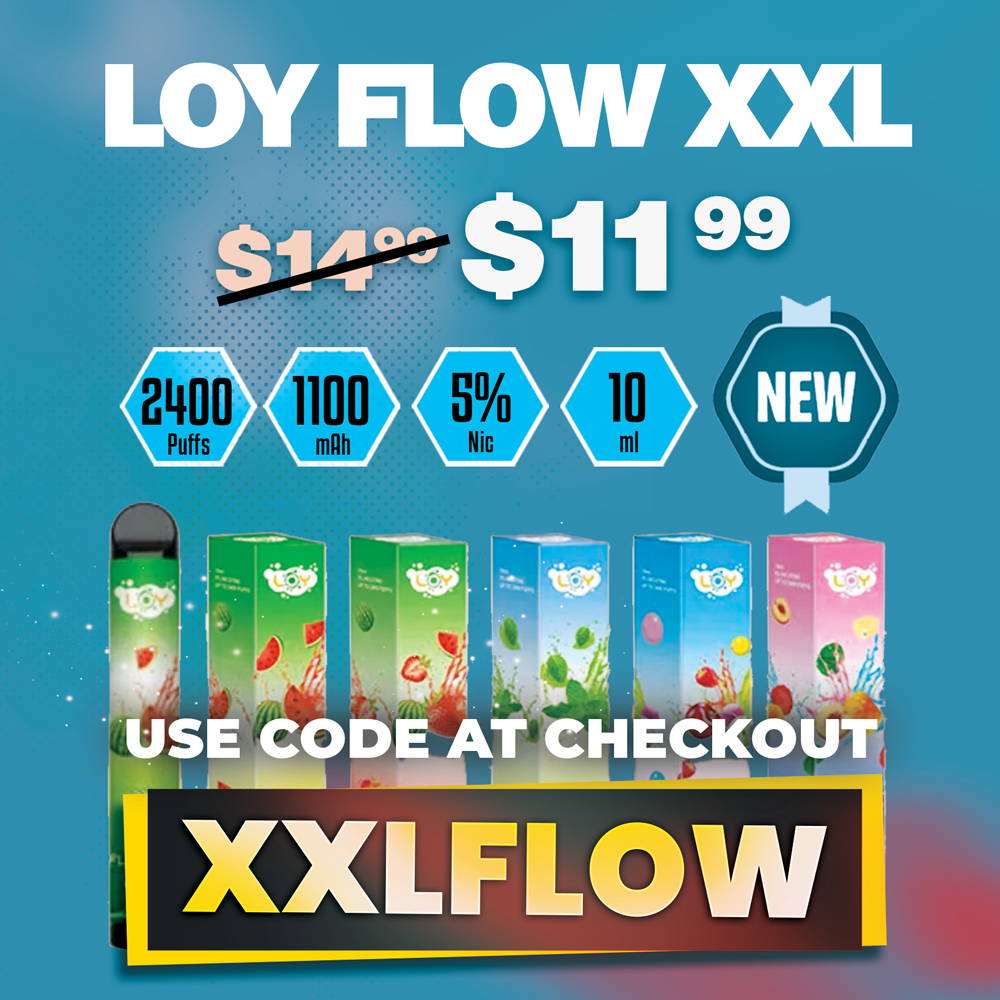 Pre-order the NEWEST device from LOY and be the first to experience the LOY FLOW XXL power! A revolutionary device is like no other. It features a 10mL capacity of ejuice, 1100mAh battery and more than 2400 puffs! Gummy Peach, Crunchy Cream Donuts and more. ONLY $11.99 with code "XXLFLOW" at checkout.
HYPPE MAX FLOW NEW FLAVORS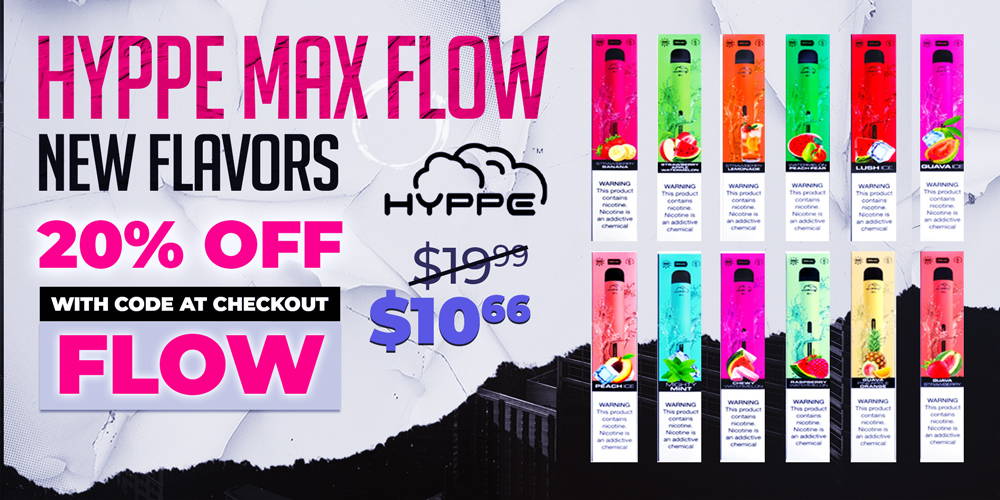 Hyppe Max FLOW NEW flavors are here! All your favorites flavors from the original Hyppe Max are back and with the best prices for you to save. Try Banana Ice, Cola Ice, Strawberry Banana & much more! Take 20% OFF all Hyppe Max Flow flavors and get them for ONLY $10.66 with code "FLOW" at checkout. Prices this low, you might want to stock up while you can!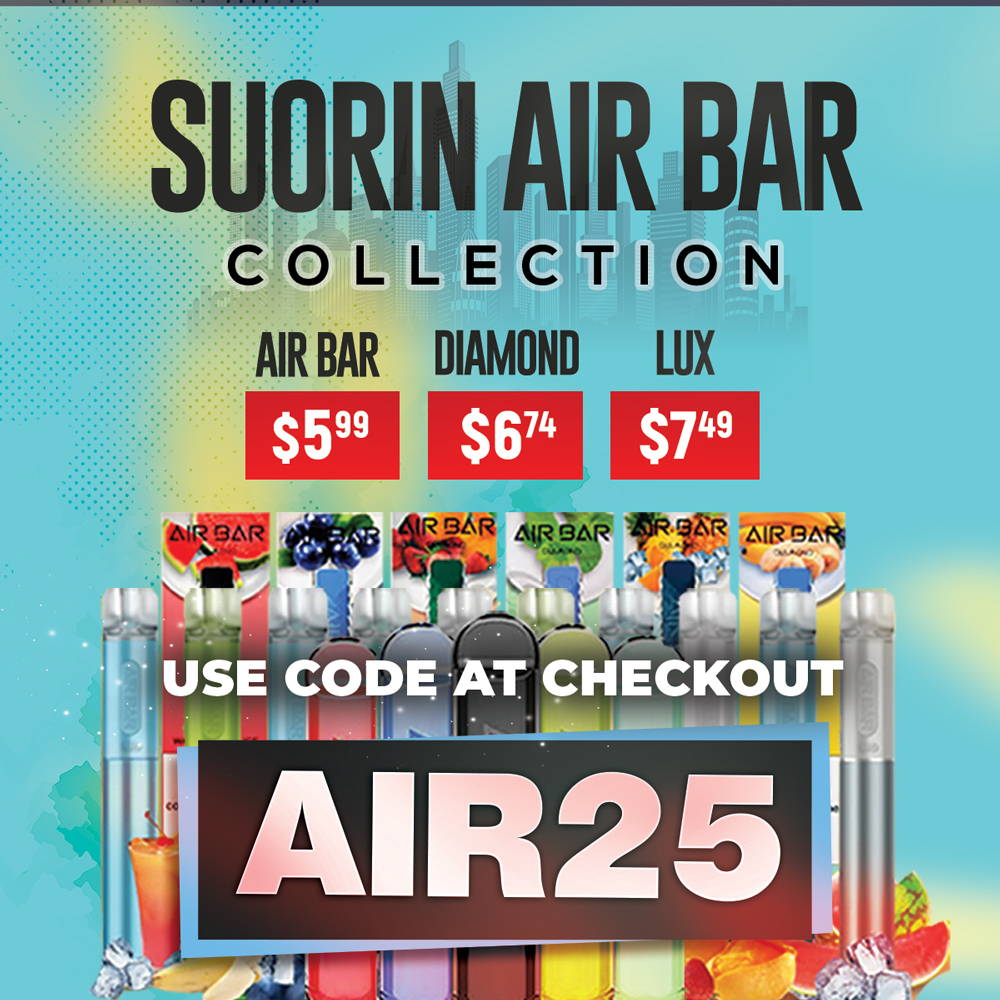 The latest from our Suorin disposables collection are now 25% OFF with code "AIR25" at checkout. The OG Air Bar, Air Bar Diamond, and Air Bar LUX are a hit with nothing more than a delight to use! Supplies are limited, so be sure to act now. We just love Suorin with their unique styles, designs and flavors.
NEW CALI PODS MAXX $11.99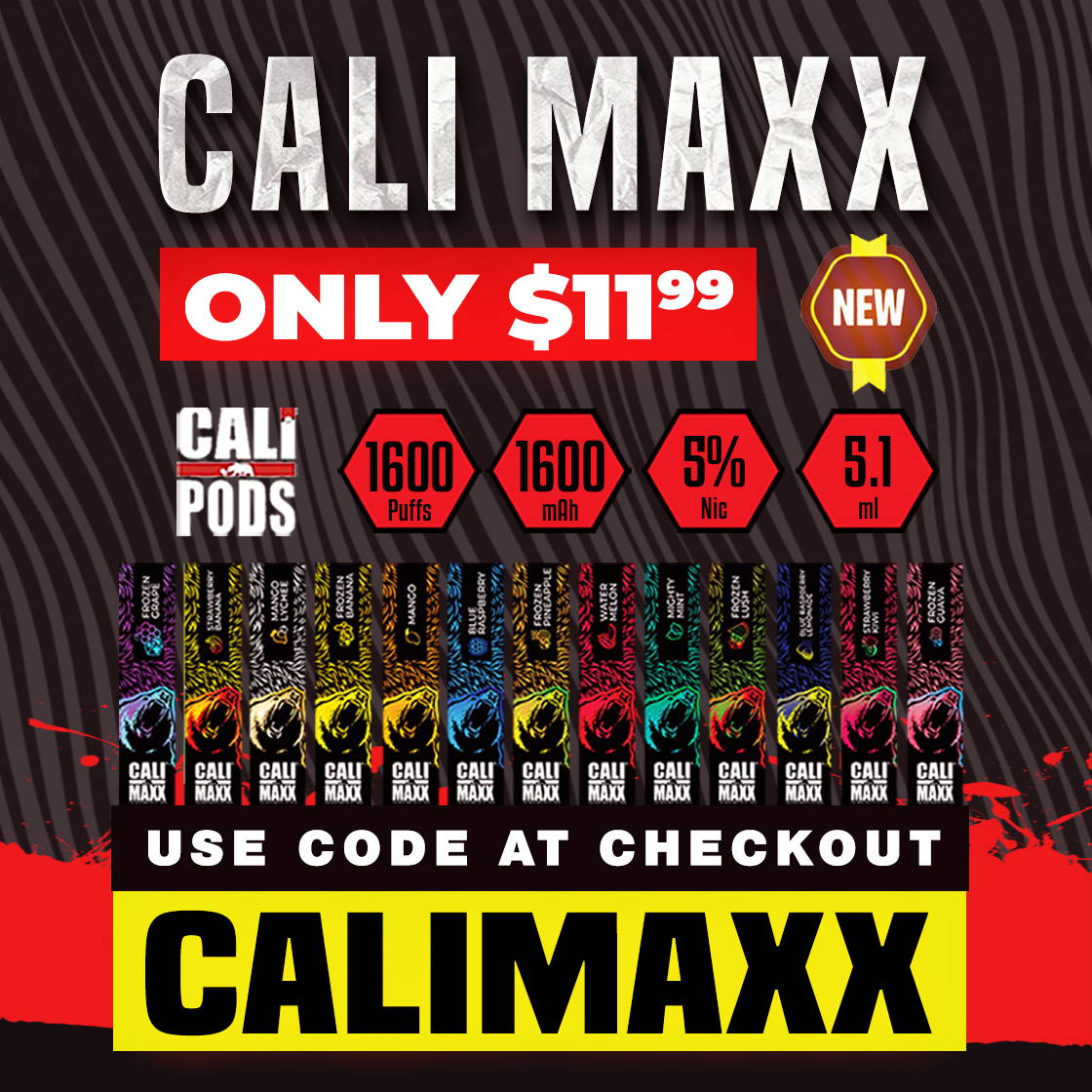 Cali Pods are back and with a big bang! The uniquely designed Cali Maxx is the latest revolutionary device from Cali Pods. It features a sleek device and auto draw mechanism which allows the device to be as portable as possible. Choose from 11 flavors and find your all day vape! $11.99 with code "CALIMAXX" at checkout.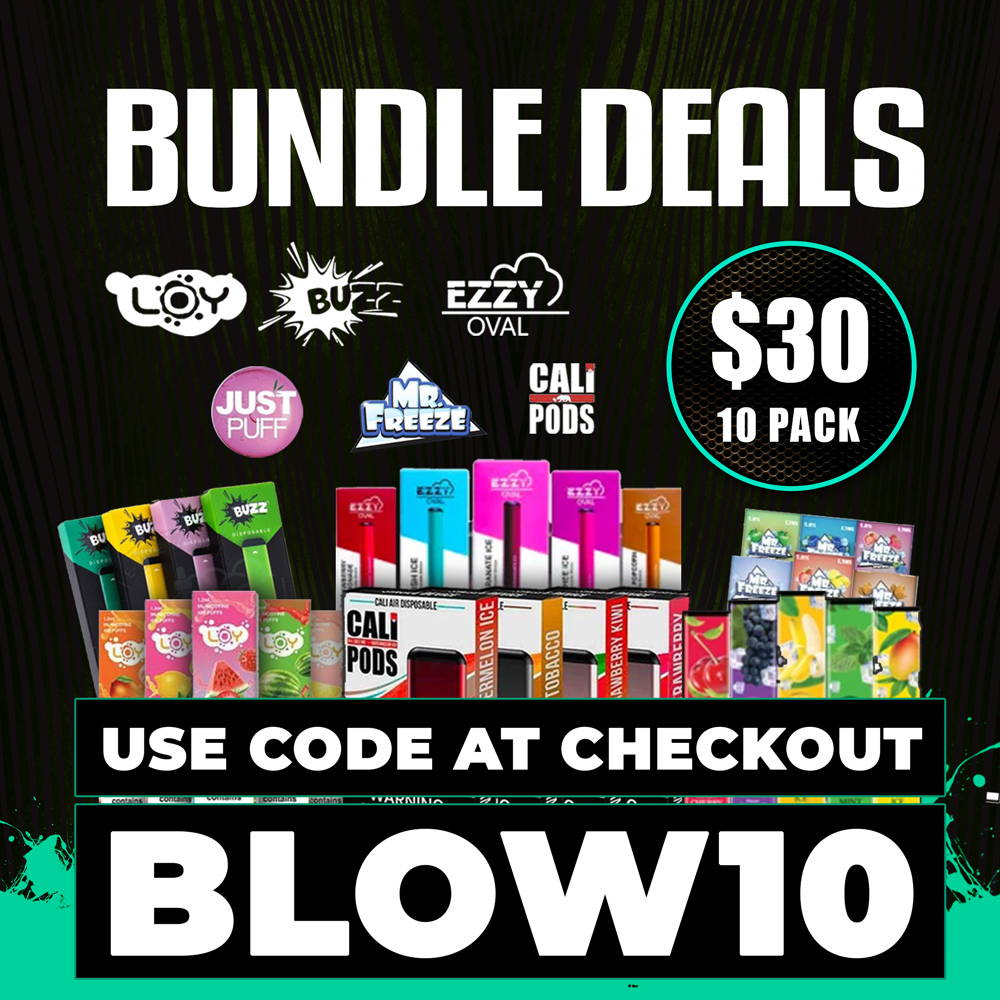 Don't miss out on this insane deal! Get any of these brands and pay $30 for 10 pieces. That's ONLY $3 each!!! RYSE, Ezzy Oval, Cali Pods, Puff Bars, Just Puff, Mr. Freeze and more! Sorry, NO SUBSTITUTIONS for this deal. You will receive 10x disposables of 1 flavor. Use code "BLOW10" at checkout.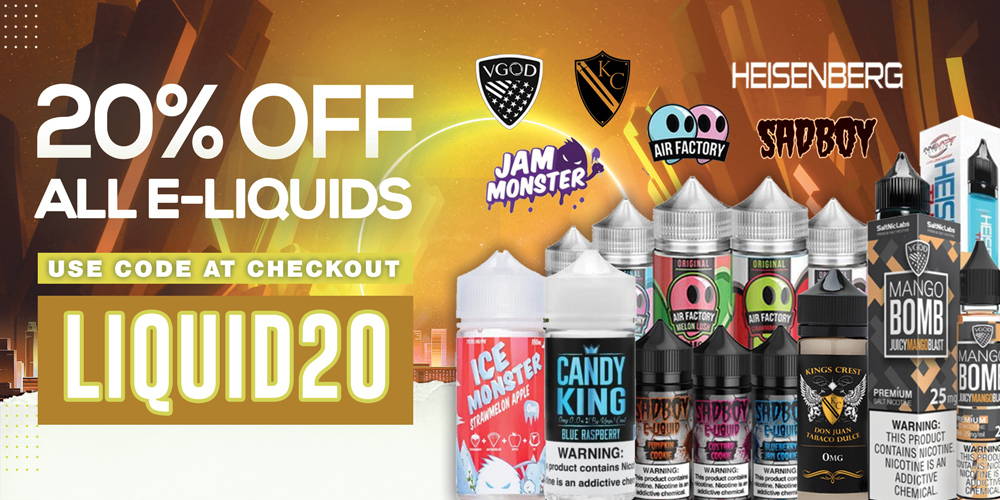 VGOD & HQD CUVIE 3 PACK SALE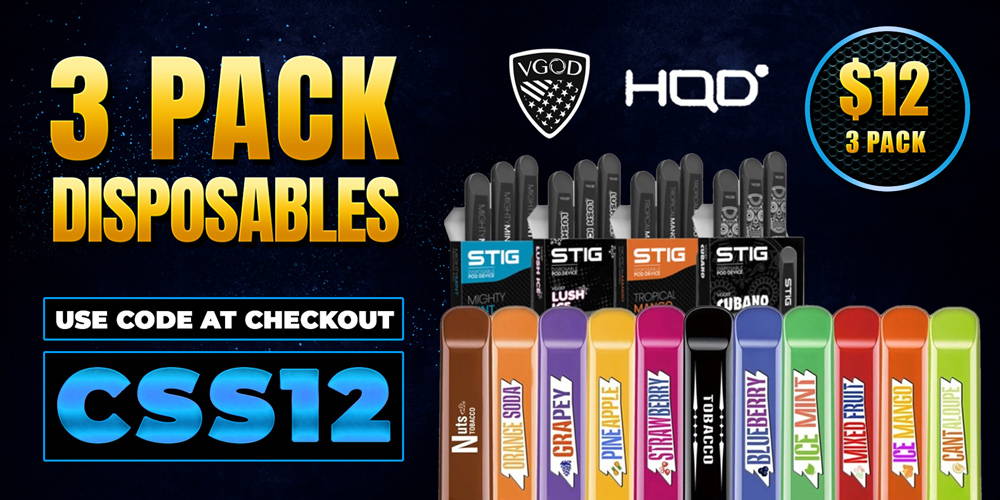 STIGS & HQD SALE! Get 3 packs of HQD Cuvie or VGOD Stig for only $12 with code "CSS12" at checkout. With over 40 delicious flavors to choose from, you are sure to find that perfect all day vape. Stock up NOW while you can, because supplies are LIMITED!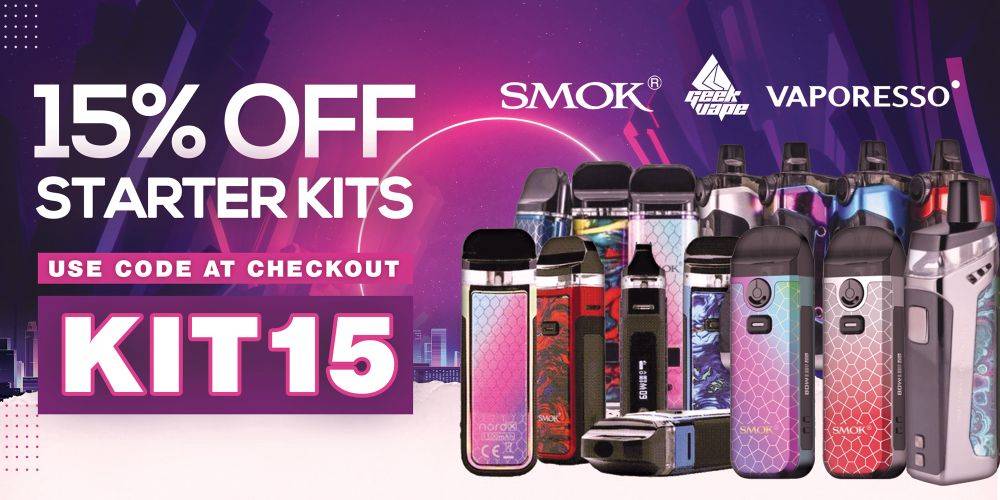 Are you tired of those disposables? Get the hottest selling starter kits at prices you can afford! Check out the latest SMOK kits including the SMOK NOXO X, SMOK NORD 4, SMOK NORD X and much more. These kits are best paired with delicious freebase and salt nicotine e-liquids. Try one today and get 15% OFF with code "KIT15" at checkout and get that perfect all day vape!
15% OFF ALL CBD & HEMP PRODUCTS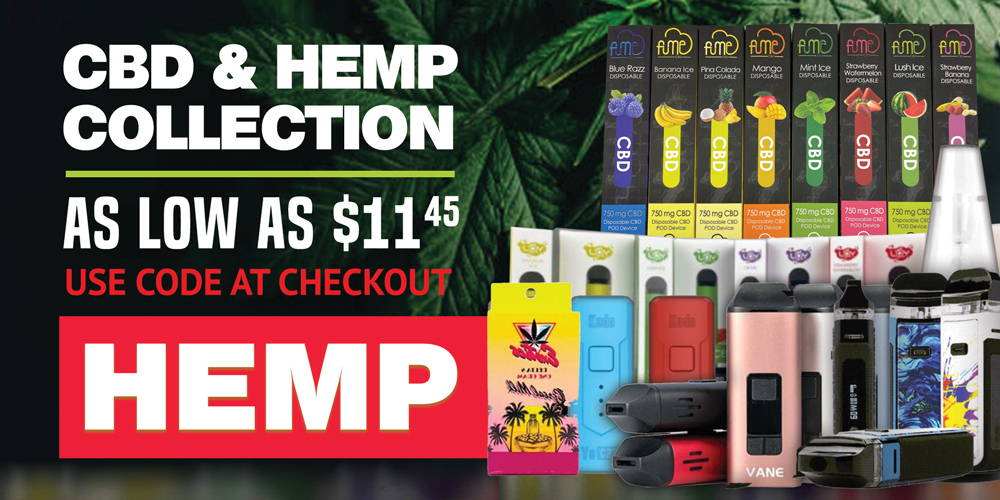 Are you feeling earthy and want to try something new? Our CBD Hemp collection is filled with a variety of products to satisfy your needs. We carry a range of disposables, kits, cartridges, batteries and flower. Use code "HEMP" at checkout and get 15% OFF. Our collection is growing everyday so be sure to check back soon.